In order to enjoy your ski week in complete serenity, certain basic rules and attitudes must be respected and adopted.
The effort, the cold, the altitude, the sun... Skiing or snowboarding is really a sport! Remember to warm up, don't push yourself too much, to eat and hydrate properly ... and everything will be fine.

Don't forget to dress your children warmly even if the sun is shining, temperatures at altitude can be very cold: gloves, hats, helmets, goggles ...
To ski well, you must first choose equipment adapted to your technical level, your height and your weight. The adjustment and maintenance of the bindings are then essential to limit the risks in case of a fall or shock.
Ask for advice in specialist shops and be aware that those who comply with the NF X50-007 rental standard guarantee you the right equipment and the correct adjustment of the bindings. Your body will thank you for it...
The head is very exposed in board sports, especially for children. To limit trauma in the case of an accident, wear a helmet. Its effectiveness has been proven. Ask for a helmet that complies with standard NF EN 1077.
To protect yourself from ultraviolet rays, wear protective glasses (index 4). Protect yourself! Helmet, gloves, goggles, hats and dress warmly, in the mountains, even in the sun, temperatures can be very low. Think about sun cream, you are at high altitude, UV rays are stronger even through clouds!
Before you start, make sure you're properly insured. If not, take the necessary steps. Rescue is not free (from a little more than 100 € to 1500 €)...
Take the CARRÉ NEIGE insurance. It's Simple. The only one perfectly adapted to our mountain services, which reimburses you for ESF ski lessons and ski lift passes in case of illness or accident (except excess).
6 days children or adults : 16,80 €.
or the CARRE NEIGE Intégral if booked in advance of the stay (ski passes, ski lessons and childcare): child or adult: 21,60€ /6d (3,60€/day)
The annual Snow Card licence is also sold by the ESF :
individual adult : 70 €.
family : 213 € (from 4 persons, same address on proof)
Prices are subject to change without notice.
Our piste map is essential to make the most of the ski area and avoid getting lost...
Ask for it when you arrive at the resort, take it with you on the slopes and remember that only open slopes are secured and controlled.
To get the most out of the day, check the weather forecast available on our site every day and find out about the opening state of the slopes and lifts, as well as snow conditions before getting on your boards.
If in doubt, ask the lifeguards, instructors or guides.
WEATHER FORECAST - FRANCE
0 892 68 08 08 (0.34 €/mn) - 3615 METEO - www.meteofrance.com
Off-piste skiing requires a good technical level, a good knowledge of the mountain and adapted equipment.
Off-piste skiers, beware! Natural mountain hazards (steep slopes, cliffs, crevasses...) are not reported and avalanches can occur. You move at your own risk.
OFF-PISTONE: Anything outside the open ski slopes. Beware of false tracks (traffic, skiers and others...).
Inform yourself of the snow conditions and avalanche risks:
Take into account the avalanche flag and the signs posted at the main crossing points of the resort.
Ask the first-aid trackers, guides or instructors.
Consult the avalanche risk assessment bulletin issued by Météo-France (0 892 68 10 20* - 3615 METEO - www.meteofrance.com) or posted in the resort. *0,34 € /min
The avalanche flag indicates the level of risk: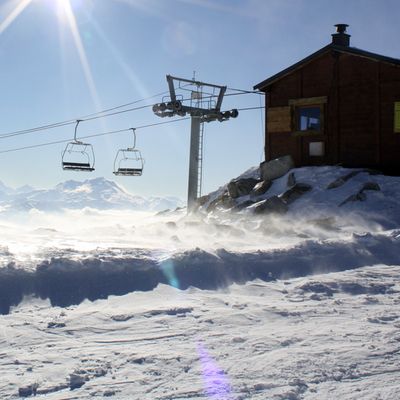 MEANING OF THE FLAG
STABILITY OF THE SNOW PACK
Limited risk: Scale 1 and 2
Stable snowpack on most slopes.
On a few fairly steep slopes, moderately stable snowpack.
High risk: Scale 3 and 4
Moderately or poorly stable snowpack on many slopes.
Very high risk: Scale 5
Unstable snowpack on all slopes.